Gardaí frustrated as protests in Mayo continue

mayo | environment | news report

Friday June 28, 2013 16:03

by j debender - Rossport Solidarity Camp

A field in Aughoose

085.114.1170
Week of Action unfolds with roadblocks, trespassing, turf collecting, arrests and imprisonment
This week has seen large numbers of people continually walking down to Shell's tunneling compound, disrupting work and blocking Shell traffic, and many people from the camp have taken advantage of the sunny weather to spend the days helping locals with turf collecting- many hands make light work! Meanwhile the guards have spent their time patrolling around harassing people on the roads.
A Brief blow by blow
Thursday morning as a convoy passed the camp, 20 Gardaí tried to block the gate to the camp and threw people into ditches, pushing one person's head into the water in the ditch and generally being a bit violent. Two people were arrested. One was let out with a caution and the other was held in custody, brought to court in Castlebar Friday morning and denied bail, so he is now in Castlerea Prison awaiting a court appearance 5th July.

Later on Thursday morning a small group went to Belmullet Garda station to collect their friends and one person was dragged outside the copshop, pushed to the ground and arrested for alleged criminal damage on Sunday 23rd June. He was held overnight and brought to court in Castlebar on Friday morning. He has been granted bail and released on the condition he not enter or interfere with Shell property or traffic, and signs on once a week at Belmullet Garda Station. He will be up in court on 10th July.

Thursday afternoon a large group of 30 or so people walked down to the Shell compound in Aughoose, stopping work inside the compound and stopping any Shell traffic from entering or exiting the compound for over 3 hours. Once again IRMS (Shell private security) was policing the public road, pushing people and holding people until the guards arrived. Two people were arrested on the road. One person was released and will appear in Belmullet Court on 10th July, the other was arrested for outstanding fines and brought to Mountjoy women's prison in Dublin. She was held overnight and released Friday morning.

Thursday finished off at 6pm when the guards finally attempted to clear the road, everyone left and no one else was arrested. A long queue of 20 vehicles and lorries which had been stuck inside finally were able to leave the compound.

Friday 28th June at 7am one person climbed a tripod erected in the road between Bellanaboy refinery and the Aughoose tunneling compound, stopping all traffic going into the compound until 11.30am when the road was cleared and the person was arrested. That person is being charged with Sections 8 and 9 of the public order act and will be up in Belmullet court on 10th July.

Three people walking back to camp from the tripod on Friday were followed by guards, and an attempt was made to arrest one of them but they jumped into a field and got away. This isn't the first time that people have been harassed on the roads this week by Gardaí. Tuesday night as people were walking back from the pub the guards were stopping people who were walking in twos or alone, asking for names addresses and even emails. One person refused to give his details, saying he hadn't done anything out of the ordinary and was only walking home, and he was arrested and brought to Belmullet garda station. He was released in the early hours of the morning with no charges.

Other things that have happened this week: Windows of a Shell house were broken, graffiti appeared on the main gates of the tunneling compound, and a Shell truck ran into problems with spuds up the exhaust and someone doing in its tyres. Who knows what else the pixies have gotten up to....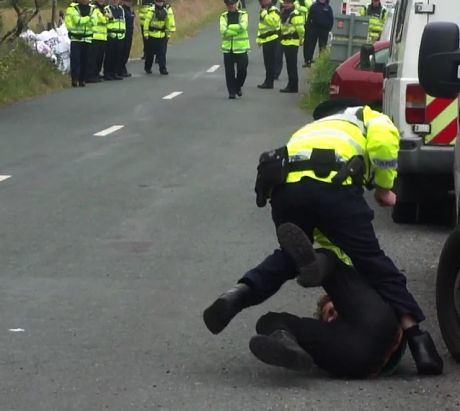 Cops assaulting people on the road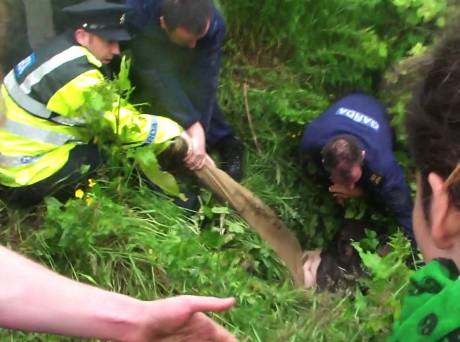 Pushing people into ditches then arresting them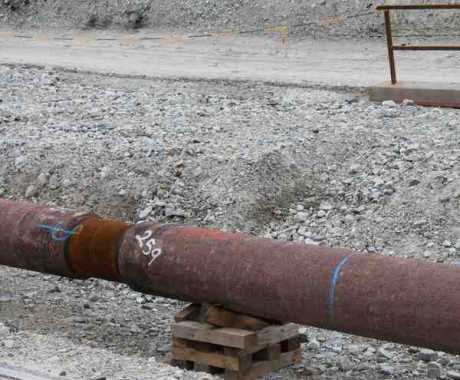 This is the pipe being laid between the refinery and the tunneling compound