Shell to Sea activist Izzy is Free!

mayo | rights, freedoms and repression | news report

Saturday February 23, 2013 22:00

by Shelver - RSC
... and the west's awake...
After a week and a half in custody, Shell to Sea activist Izzy Ní Graidim left Mountjoy prison yesterday at 1.30pm on temporary release! We'd expect that to turn into full release in a week's time when she's due back in there.
When we heard the news yesterday at the camp we were so overjoyed that we ran out onto the road to block the Lennon's quarry lorries hauling to Glengad. We had been planning a protest for today outside the prison, so after a bit of chat between folk in Dublin and here who had planned to travel over for it, we decided to call it off.

Talking to Izzy later on we learnt that the prison guards wanted her out to avoid the protest outside the prison! We were speculating that with the Gardaí working to rule at the moment the prison might have been worried about being blocked in for the day. Either way more power to protest, or even to the threat of it.

Welcome Home
At 10.30pm last night Gerry gave me a spin out to collect Izzy at Ballina bus station. We were delighted to see her and on the way home her indefatigable ability for conversation was put to great use answering our questions about how she was and what it was like inside.

In the meantime word went out to meet at Bellacorick to welcome Izzy back to Erris.

As we got closer to Bellacorick we could see a crowd standing around a fire at the Castlebar junction. With just a few hours notice people had come out from Aughoose, Pullathomas, Glengad, Inver, Rossport, Porturlin, Glenamoy, Geesala and Crossmolina to welcome her home. We had great craic and celebrated Izzys return. After about an hour, with the fire dying down, Naoise played a lovely whistle tune that brought tears to a few eyes.

It just after midnight - we were elated, united and ready to celebrate.

With Izzy in our car we took the head of the cavalcade to Bangor. We had a go-slow through town and plenty beeping. I know some kids might have been woken up but on the plus side maybe they got explained what was going on.

Onto Ballinaboy
We pulled into Gate 1 beeping and lights blazing. No one to be seen anywhere. Enough of that - onto the Aughoose tunnelling compound.

Same craic - horns beeping and lights blazing. We made for opening the gates (remember they let us into Ballinaboy before). There was some climbing in over the fence going on and other general antics. There were about 10 seriously worried IRMS security guards inside the gate. After about quarter of an hour of that aul' nonsense we all headed home.

No Haulage Today
Last night we heard rumours that there was a protest planned for today and that there'd be no haulage. Was it one of our protests or the Garda "blue flu" protest they were talking about? Either way today sure enough there was no haulage. No activity in Glengad or Aughoose.

Dóible Trouble
The tunnelling at Aughoose is a total joke. The consensus emerging is that they can't deal with the dóib - the treacherous quicksandy clay stuff under the bog in these parts. According to Shell everything is going well again and the TBM is working. It's total rubbish. There is nothing happening in Aughouse. Shell put on a few flashy lights every now and again but the gantry crane to lift in segments has barely moved in the last 2 weeks. Watch this space, unfortunately the environment is usually the collateral damage when Shell mess up.

Community Spirit
Earlier last night as Gerry and I drove out to Ballina the mood in the car was reserved - we were happy she was out, but we wondered was it worth it all. Why did Izzy go to jail - could anything change?

A few hours later as we were driving home we looked back at the stream of lights from the cavalcade behind us and he said "It's still alive - something's happened tonight. What you're seeing... there isn't a force in the country can defeat it."

I could feel it too... and the same power is latent in communities everywhere, but how do you let it out? And when its out how do you keep it?

It's been a real good few weeks for us, and its all to play for.

Beir bua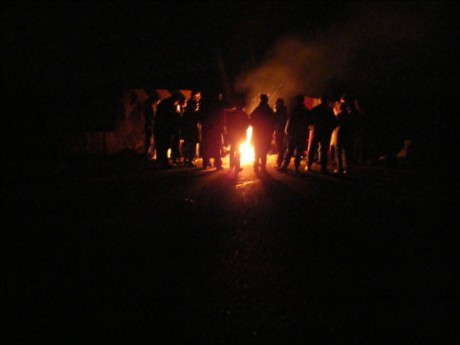 Gathering at the crossroads last night