FBI begins installation of $1 billion face recognition system across America

international | rights, freedoms and repression | feature

Thursday September 13, 2012 01:12

by T
Police State technology and implementation makes further advances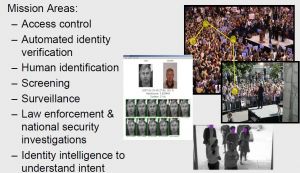 Things on the global Police State front get more frightening and ominous by the day. This latest announcement serves to underline that. The FBI has officially started rolling out a state-of-the-art face recognition project that will assist in their effort to accumulate and archive information about each and every American at a cost of a billion dollars. It is known as the Next Generation Identification (NGI) program. This report comes from Russia Today (rt.com) and quotes an article in New Scientist magazine. The project itself was announced back in 2005 and was part of a project to upgrade the existing Integrated Automated Fingerprint Identification System (IAFIS) that keeps track of citizens with criminal records across America.
Related Feature on TrapWire: Stratfor Hacked Emails Reveal the TrapWire System run by Private Corporations run by ex-CIA/NSA people
Related Links: TrapWire tied to White House, Scotland Yard, MI5 and others, claims hacked Stratfor email | 'Total Information Awareness' surveillance program returns, bigger than ever Freedom Not Fear: CCTV Surveillance Cameras In Focus US National Security Agency (NSA) related: NSA Watch | See Scandal | Echelon FAQ | Echelon Docs -These are a bit dated (circa 2000) so the system would be vastly more powerful now. | Intercept Capabilities -written 1999. | Ireland Joins Echelon - the US/UK Global Spy Network | Thousands of military drones to be deployed over US mainland | EU / Ireland / Indymedia Related: EU agrees rules for remote computer access by police forces - but fails, as usual, to mention the security and intelligence agencies, by Tony Bunyan | Spooky Tales From Rossport and MI5 | Search Engines Should Become Government Spies Says EU Parliament | EU Agree Plan for Police Forces to place radicals & protestors under Surveillance New Pan-European Intelligence Gathering Scheme Highlighted – RNU Internet Freedom Fighters Build a Shadow Web | Pirate Party Speaks Out Against Government Filtering Plans | Are government representatives and gardai poring over your private emails and texts without you even knowing? | Some observations on state repression | How are we to handle police intelligence with care? Swedish government adopts invasive wire-tapping measures -law allows govt to monitor all e-mail and telephone communications that enter, leave or even pass through Sweden.
But as always with the vast increases in computer processing power, storage and network bandwidth, the temptation to expand and integrate this more widely as usual cannot be resisted. Officially it says: The NGI Program Office mission is to reduce terrorist and criminal activities by improving and expanding biometric identification and criminal history information services through research, evaluation and implementation of advanced technology within the IAFIS environment. Nothing too wrong there you might say. However the report says the agency (FBI) says:
"As a result of the NGI initiatives, the FBI will be able to provide services to enhance interoperability between stakeholders at all levels of government, including local, state, federal, and international partners. The report notes: In doing as such, though, the government is now going ahead with linking a database of images and personally identifiable information of anyone in their records with departments around the world thanks to technology that makes fingerprint tracking seem like kids' stuff. . Did you get that? -other departments around the world!
Please note as an aside about Facebook.
People may not be aware but a number of years ago there was a significant break-through in the algorithms for face recognition. Indeed as anyone with a Facebook account knows, if you tag a picture of someone with their name, Facebook will automatically scan through all other pictures to see if it can identify that same person and automatically tag all other pictures containing that person with their name. Perhaps some users think this is a really handy feature but it has its flip side. Facebook has about 40 billion face prints.
For more related, see Franken takes Facebook to task over photo tagging | Facebook acquires facial recognition startup, may broaden tagging ability
Getting back to the report it goes on to say:
According to their 2006 report, the NGI program utilizes "specialized requirements in the Latent Services, Facial Recognition and Multi-modal Biometrics areas" that "will allow the FnewBI to establish a terrorist fingerprint identification system that is compatible with other systems; increase the accessibility and number of the IAFIS terrorist fingerprint records; and provide latent palm print search capabilities." Is that just all, though? During a 2010 presentation (.pdf) made by the FBI's Biometric Center of Intelligence, the agency identified why facial recognition technology needs to be embraced. Specifically, the FBI said that the technology could be used for "Identifying subjects in public datasets," as well as "conducting automated surveillance at lookout locations" and "tracking subject movements," meaning NGI is more than just a database of mug shots mixed up with fingerprints — the FBI has admitted that this their intent with the technology surpasses just searching for criminals but includes spectacular surveillance capabilities. Together, it's a system unheard of outside of science fiction
So okay lets read that again: ...
Specifically, the FBI said that the technology could be used for "Identifying subjects in public datasets," as well as "conducting automated surveillance at lookout locations" and "tracking subject movements,"
The image below is from a presentation showing how the system can zoom in a pick 3 people from a crowd and then recognise that person again in a later shot. If you are not getting worried at this stage, then you have to be brain dead. To continue with the report it says:
New Scientist reports that a 2010 study found technology used by NGI to be accurate in picking out suspects from a pool of 1.6 million mug shots 92 percent of the time. The system was tested on a trial basis in the state of Michigan earlier this year, and has already been cleared for pilot runs in Washington, Florida and North Carolina. Now according to this week's New Scientist report, the full rollout of the program has begun and the FBI expects its intelligence infrastructure to be in place across the United States by 2014. .... Jim Harper, director of information policy at the Cato Institute, adds to NextGov that investigators pair facial recognition technology with publically available social networks in order to build bigger profiles. Facial recognition "is more accurate with a Google or a Facebook, because they will have anywhere from a half-dozen to a dozen pictures of an individual, whereas I imagine the FBI has one or two mug shots," he says. When these files are then fed to law enforcement agencies on local, federal and international levels, intelligence databases that include everything from close-ups of eyeballs and irises to online interests could be shared among offices.

The FBI expects the NGI system to include as many as 14 million photographs by the time the project is in full swing in only two years, but the pace of technology and the new connections constantly created by law enforcement agencies could allow for a database that dwarfs that estimate. As RT reported earlier this week, the city of Los Angeles now considers photography in public space "suspicious," and authorizes LAPD officers to file reports if they have reason to believe a suspect is up to no good. Those reports, which may not necessarily involve any arrests, crimes, charges or even interviews with the suspect, can then be filed, analyzed, stored and shared with federal and local agencies connected across the country to massive data fusion centers. Similarly, live video transmissions from thousands of surveillance cameras across the country are believed to be sent to the same fusion centers as part of TrapWire, a global eye-in-the-sky endeavor that RT first exposed earlier this year.
And to prove not all US senators are sold on this sort of thing, the report quotes US Senator Al Franken (D-Minnesota):
"Once someone has your faceprint, they can get your name, they can find your social networking account and they can find and track you in the street, in the stores you visit, the government buildings you enter, and the photos your friends post online."
As of this stage the program is 60% deployed and the map below shows states where facial recognition (FR) is already in pilot operation. Some readers might think well this is just a US story so so what? As already indicated in the article it explicitly says this will link other with other similar departments worldwide and with certainty we can include the UK seeing they are most eager with this kind of technology, but it is very likely to be deployed in most other countries and is actually mostly likely already being piloted. The ease at which this can be done is really quite simple, because even in little old Ireland, there are already 1000's of cameras and all that is required is to simply divert or send a copy of these data streams to the appropriate centers and simply load the software. Given the enormous bandwidth of fiber optic cables and their widespread presence, it is irrelevant where the data and analysis center is. For all we know the US or UK could simply for a fee be already or plan to, offer to run the service for the Irish and give them private web (or whatever) access to the results. Of course they get to extend their own networks and scoop up the data here essentially for free. The full text of the report can be read at the link below