Bluebell Community Prevent Eviction

dublin | rights, freedoms and repression | news report

Thursday June 07, 2012 00:46

by Bluebell Resistance
On Wednesday June 6 the people of Bluebell, Dublin, mobilised for a community protest which prevented a local family from being evicted from their home
Yesterday (June 6) the people of Bluebell, Dublin, mobilised for a community protest which prevented a local family from being evicted from their home. As a bailiff from the Dublin City Sheriff's office arrived with his Garda escort to take possession of Darren Byrne's home, they were confronted with a crowd of up to 100 local residents who were determined to prevent the repossession from taking place. Confronted with such a sizable protest, the bailiff beat a hasty retreat from Bluebell.

Darren Byrne, a lone parent, raised two of his children in the family home where he has lived for the last twenty years. Like so many others, Darren and his family have become victims of the economic crisis and the greed of the financial institutions.

A plumber by trade, Darren has been out of work since November 2008. Following his redundancy Darren successively negotiated a restructuring of his mortgage repayments, but then found himself unable to make these repayments. When faced with the choice of paying his mortgage or feeding himself and his family Darren rightly opted for the latter.

Despite Ulster Bank's attempts to evict Darren and his family, they are determined to fight and stay in their home. In a great show of community spirit the people of Bluebell are standing shoulder to shoulder with the Byrne Family, and will continue to resist any attempt to force this local family onto the streets.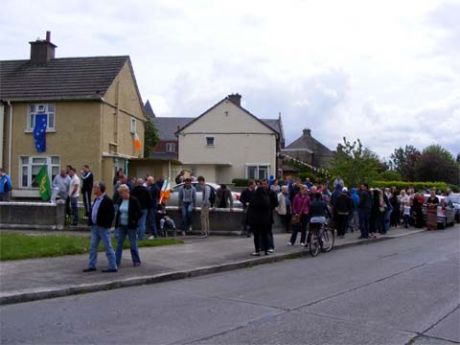 Supporters Outside Byrne Family Home