Rabbitte confronted on oil and gas giveaway at Energy conference

dublin | anti-capitalism | news report

Thursday May 31, 2012 10:36

by Shell to Sea
Pat Rabbitte and Shell MD speak at Croke Park energy industry conference
Today, Minister for Energy Pat Rabbitte was confronted by a number of Shell to Sea campaigners outside Croke Park, after he had finished addressing an energy industry conference. The conference was also addressed by Shell Ireland Managing Director Michael Crothers and featured discussion on the future sell off of the State's energy assets.[1]

On leaving the conference Pat Rabbitte was confronted by the campaigners and accused of betraying Ireland's interests, in particular regarding his decision last October to issue exploration licences for 250,000sq km of the Atlantic shelf, despite an ongoing Oireachtas committee review of oil and gas terms.[2]

The Oireachtas committee has since issued it's report and stated that Ireland's deal on oil and gas "is generous in comparison to that of other countries" and recommended setting the tax-take to a minimum of 40% and up to 80%. Currently for Corrib the tax take is set at 25% after all costs have been written off. [3]

Banners at the protest included "Pat Rabbitte guilty of economic treason", "Thieves" and "Shell's Pet Rabbitte".[4]

Speaking from Croke Park, Shell to Sea spokesperson Terence Conway stated "Previous Labour party leader Dick Spring was the first to use the phrase 'economic treason' to describe the giveaway of Irelands oil and gas, but what Pat Rabbitte is doing is every bit as treasonable as what Fianna Fail ever did."

"Pat Rabbitte still hasn't told the public what he thinks of the Oireachtas committee's finding that Ireland's oil and gas terms are far too generous, yet he's willing to tell the energy industry his views at a conference that costs €1,000 to attend. If he really cared for the people of Ireland who are facing years of austerity cuts, he would have taken time to answer our questions rather than driving away shamefaced."

Maura Harrington stated "Pat Rabbitte has shown contempt for democracy and unless the terms are changed has cost this country billions."

The Energy Ireland conference was also addressed by Bord Pleanala chairperson Mary Kelly whose address was entitled "Planning for energy projects: Key issues". Mary Kelly previously appeared in the first promotional video for Corrib made in 2001, when she worked with IBEC.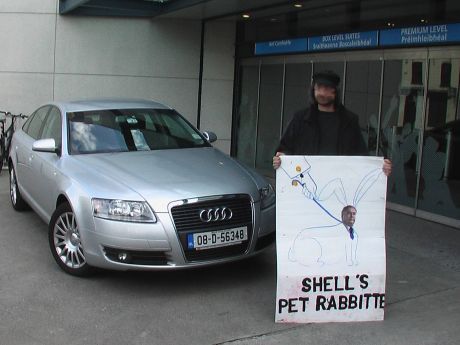 Campaigner infront of Pat Rabbitte's car as he addresses Energy conference