While Jewellers profit Palestinians pay the cost

international | rights, freedoms and repression | feature

Tuesday May 22, 2012 20:57

by Sean Clinton - Global Palestine Solidarity
Kimberley Process charade set to continue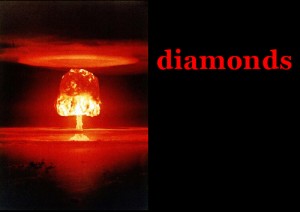 As the leaders of the global diamond industry gathered in Vicenza, Italy for the annual meeting of the World Diamond Council, Palestinians remained trapped in a surreal nightmarish existence under the cosh of a diamond-funded, nuclear-armed belligerent regime: "The Israeli forces used [taser guns] and I have bruises on my arms and legs. I saw them open a protester's mouth by force and spit in it, and they spit in my face as well. While being under custody, a police officer of Ramle district addressed both me and another female activist while being cuffed with verbal sexual harassment, threatening to rape us. I have to admit I burst in tears ."
Related Links:
De-Beers asked to remove blood diamond display from Tower of London | No Valentine for Kimberley Process | Israeli Blood Diamond Campaign claims another victory | Two global diamond retailers resort to censorship over Israeli Blood Diamonds issue | Marilyn Monroe launches 'Boycott Israeli Blood Diamonds' campaign in Dublin | Kimberley Process (wikipedia) | Amnesty US page on conflict diamonds
Despite the fact that cut and polished diamonds from Israel are funding war crimes and crimes against humanity, the US Chair of the international diamond-regulatory system known as the Kimberley Process (KP), said on Monday "We cannot be everything to everyone and our role is to cover the rough distribution process ."

The conviction of the former Liberian President, Charles Taylor for war crimes and crimes against humanity has again focused public attention on blood diamonds and the failings of the KP. Last November the KP charade was exposed when diamonds from the Marange area of Zimbabwe, where government forces stand accused of killing of over 200 people, were granted a KP certificate of compliance and allowed on to the international market. According to Marc Choyt from Fair Jewelry Action this decision "caused disappointment and outrage among both jewellers and NGOs concerned about diamonds in context to human rights." As a result, Global Witness, the London-based human rights organisations responsible for exposing the trade in blood diamonds and a founding member of the KP, withdrew from the scheme stating "most consumers still cannot be sure where their diamonds come from, nor whether they are financing armed violence or abusive regimes". Partnership Africa Canada and other civil society organisations with Observer status in the KP have threatened to withdraw unless meaningful reform of the KP occurs this year including a broadening of the definition of a "conflict diamond" to include diamonds that fund human rights violations by government forces and the inclusion of the cutting and polishing industry .

Israel, one of the world's leading producers of cut and polished diamonds is heavily reliant on its burgeoning diamond trade which increased by 23.5% in 2011 and accounts for approximately 30% of its exports. Evidence given to the Russell Tribunal on Palestine in 2010 indicated that the Israeli diamond industry generates over $1 billion/yr. in funding for the Israeli military/security industry . Israel stands accused of "serious war crimes and possible crimes against humanity" by the UN Human Rights Council following the attack on Gaza in the winter of 2008/2009 that killed over 1400 people, including more than 300 children and left thousands more injured and maimed for life. Israeli diamonds that fund war crimes, de-facto blood diamonds, are sold worldwide labelled as conflict-free diamonds. These cut and polished blood diamonds are exempt from the KP definition of a "conflict diamond".

The Kimberley Process is under pressure to review the definition of a "conflict diamond" which is presently restricted to "rough diamonds used by rebel movements or their allies to fund violence aimed at undermining legitimate governments". There will be an opportunity to do so during the KP intercessional meeting in Washington from June 4th-7th.

The EU's Position
In response to questions from MEPs, the EU High Representative, Vice President (HRVP), Catherine Ashton, recently stated "The definition of a conflict diamond is at the heart of the current scope of the KP's mandate, and is key to the KP's objective to break the link between the rough diamond trade and conflict. Nevertheless, the EU considers it essential for the KP to build on lessons learnt and to adjust to new challenges."

The main lessons learned since the Kimberley Process came into force in 2003 is that diamond-funded human rights violations are not restricted to the trade in rough diamonds or to rebel movements. Rogue governments are using revenue form rough diamonds (Zimbabwe) and cut and polished diamonds (Israel) to fund gross human rights violations including war crimes and possible crimes against humanity. Consumers are being conned into buying blood diamonds that jewellers deceitfully claim are conflict free. While jewellers profit in the short term the damage to the diamond brand image could ultimately be catastrophic for the industry.

HRVP Ashton also stated, "The Commission is provisionally in favour of reviewing the definition of conflict diamonds, so as to consider how the KP could address wider issues of violence related to or arising from diamond extraction and trade". This could, and, if the diamond industry is serious about preventing diamond-funded human rights violations, should, result in all blood diamonds being classed as "conflict diamonds" and banned.

However, any attempt to ban the trade in Israeli blood diamonds will be resisted by Israel's allies in the EU and by the US in particular. Former US Ambassador, Gillian Milovanovic, chairs the Kimberley Process in 2012 and has indicated on a number of occasions since taking office that she does not support the KP expanding its remit to include cut and polished diamonds. Her statement on Monday confirms that the diamond industry has no intention of ending the trade in the high-value cut and polished blood diamonds. A leading London jewellery outlet had this to say, "Without expanding its mandate to include this part of the industry [cut and polished diamonds], the KP remains complicit in perpetuating a fraud that KP diamonds are in fact, 'ethical' diamonds."

Amnesty International (AI) and Human Rights Watch, both of which have documented Israeli war crimes, have so far remained silent about the trade in Israeli blood diamonds. Amnesty International USA promotes a grossly misleading guide to buying conflict-free diamonds. AI has adopted the position promoted by the vested interests in the diamond industry who want the public to believe that KP compliant diamonds are conflict free and the only blood diamonds are those in the possession of rebels groups and not jewellers in the marbled halls of high street jewellery outlets worldwide.

The term conflict-free has never been defined and doesn't appear anywhere in the KP regulations. It is part of the bogus "System of Warranties" introduced by the World Diamond Council. This has been used by jewellers to self-certify that the diamonds they sell are conflict free, "based on personal knowledge and/or written guarantees provided by the supplier of these diamonds". This guarantee provides an economic shield for Israeli diamonds that consumers would otherwise reject if they were aware they were funding the sort of daily violence and oppression alluded to at the outset.

If human rights activists and jewellers want to end the trade in blood diamonds they need to act right away, before KP members meet in Washington when a review of the KP definition of a conflict diamond will be one of the main issues on the agenda. Human rights activists in Australia , UK and Ireland have been lobbying politicians to this effect. Jewellers need to do the same and ensure that their representative organisations speak out and call for the KP definition of a "conflict diamond" to be broadened to include diamonds that fund government forces guilty of war crimes and crimes against humanity.