Occupy Galway requested to leave Eyre Square

galway | rights, freedoms and repression | news report

Thursday March 08, 2012 14:42

by Tracy - Occupy Galway

info at occupygalway dot org
This is a copy of an email sent to our supporters today, we are appealing for people to come down to the camp in Galway and show their solidarity, or to help in any way they feel they can.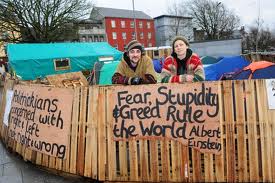 Dear Supporters,

As you may have heard Occupy Dame Street was cleared by the Gardai at 3am this morning. Earlier today, Occupy Galway received the following letter from Galway City Council;

Adressed to "Members of Occupy Galway" "Re: Illegal encampment, Dear Sirs, I refer to previous discussions with members of your group regarding the illegal encampment at Eyre Square and to the request by an official of the council that you vacate the encampment and remove all wooden pallets and other hardware in and around the camp. I am once again formally requesting the immediate vacation of the camp and the removal of all tents, pallets and other hardware and equipment in and around Kennedy Park, Eyre Square, Galway. You encampment is a serious risk to public health and safety, both to those in occupation and to those in the vicinity.Failure to comply with this request fortwith will result in the appropriate legal action being taken against you. Yours sincerely, Ciaran Hayes Director of services"
No specification of what the health and safety risks are, no explanation of how the camp is illegal.

We would like to make a few points on this letter.
Firstly, at no point have the council discussed the issue of us moving, no councillor or council official has been to the camp to discuss the matter with us at any time and there has never been a request by an official that we are aware of.
We were facilitated in moving to our present position by both the Christmas Market organisers and the council, who removed a bicycle rack. We have an email that states that we could use the area up to the benches at the front of the camp, which we have never used because we didn't want to be in the way of the public.
We requested that the council health and safety officials visit the camp to ensure that we were complying with safety regulations several weeks ago but had no reply. Approximately 3 weeks ago, after we had heard via local radio that the council were intending on moving us, two health and safety officials arrived and inspected the camp. No report was given and we were certainly not advised of any 'serious' health and safety risks and we have heard nothing from them since.
The Chief Superintendant of Galway Gardai has said on several occasions to the council and local press that we are breaking no laws and there have been no complaints.
The camp has been in place for five months, surely if it posed a serious risk to the public we should have been advised long before now.

We hope we can count on your support now, please pop down to the camp if you are able to or phone Galway City Council to voice your support, or pass this on to anyone that you feel might be able to come down to camp. The more people about the better, lets show them that there is support for the Occupy Movement in Ireland.

We will keep you updated when we have further news.

Kind regards
Tracy
Occupy Galway

http://www.occupygalway.org

http://www.facebook.com/OccupyGalway


UPDATE: Councillor Padraig Coneely speaks to morning Ireland about Occupy Galway. This is a MUST hear!