Shell's tunnelling compound shut down for the day

mayo | rights, freedoms and repression | news report

Monday February 06, 2012 19:47

by Shelver - Rossport Solidarity Camp
Occupy camps travel to Mayo in Solidarity
Last weekend some members of the Irish Occupy camps came to stay at the Rossport Solidarity Camp. There was good numbers already on the camp for winter and so along with our fellow city based campers we numbered 25 – 30. We decided to try shut down Shell's Aghoos tunnelling compound for the morning.
On Saturday we headed out in the rain from the camp at about 7.30am and walked the half mile down to the Shell compound. Seven IRMS guards were lining the area in front of the gate. The group split in two to block Shell traffic from both directions. After a while more protestors gathered near the entrance to the site gate and decided to take it from IRMS. For a welcome change we outnumbered them about 2 to 1 and took the area easily enough. Now that we were against the gates they couldn't bring security in or out either. One Garda passed up and down on the road every now and again.

We were getting soaked but happy with taking the entrance area. Then something bizarre happened.

A Barrett's lorry arrived on the scene bearing a container. Obviously we stopped it. Then some people tired of getting soaked decided to go up onto the lorry and open up the container. People came in and out using the empty container as shelter for the morning.

By about 12.45am numbers were dwindling outside so we all headed back to the camp for lunch and some warmth. There was no digger movement inside for the rest of the day so we all got on with jobs or caught up on some sleep. It was great to make links with the City Occupiers and hope they will be back again soon.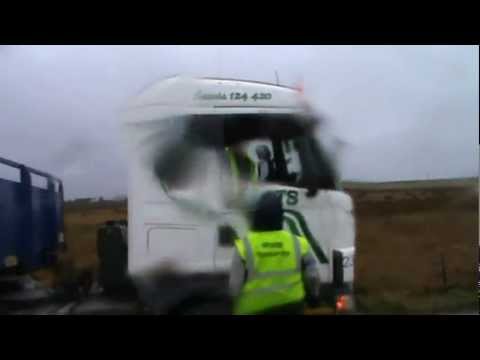 Caption: Video Id: r5exERWdJds Type: Youtube Video
Occupy Container