First Shell blocking of the New Year

mayo | environment | news report

Saturday January 07, 2012 17:15

by C - RSC

rossportsolidaritycamp at gmail dot com

Aughoose, Erris, Mayo

0851141170
Yesterday saw the first disruption of Shell's work of the New Year with a quickly organised protest called for 10am outside Bellanaboy. Overall Shell's work yesterday was stopped for 2 hours and in a further protest today (Saturday), work was stopped for a further 2 & 1/2 hours.
With the Shell trucks, which were carrying stone and peat to and from the Aughoose compound blocked, it took the Gardaí over an hour to gather sufficient numbers together to move the assembled campaigners from the road. After which the campaigners began walking up and down the road disrupting the single trucks that were intermittently sent out to the test the way for the rest of the Shell haulage. Eventually the Gardaí resorted to arresting 3 members of Rossport Solidarity Camp, who were then brought to Belmullet and charged and released on bail to appear at Belmullet District Court next Wednesday.

Today's protest was a very calm affair with only two Gardai turning up. Trucks were stopped for 2 & 1/2 hours.

Commenting on the latest protests, Rossport Solidarity Camp spokesperson Con Coughlan stated "This is the first disruption to Shell plans to lay the onshore pipeline this year but it most certainly won't be the last. We call on everyone who is sick of the way that our democracy has been taken away from us because of unchecked corporate power, to come and support this community in their struggle to have a say what happens in their area"

Con Coughlan continued "Shell made €18.2bn profit in the first 9 months of 2011, and yet still got a €12.7m tax credit from the Irish exchequer last year. Enda Kenny talks about making tough choices, which he seems to think means going after pensioners and the other vulnerable people of our society. Yet he and his Government are continuing the policy of giving away our valuable oil and gas resources to these outrageously rich companies, with no benefit to the country".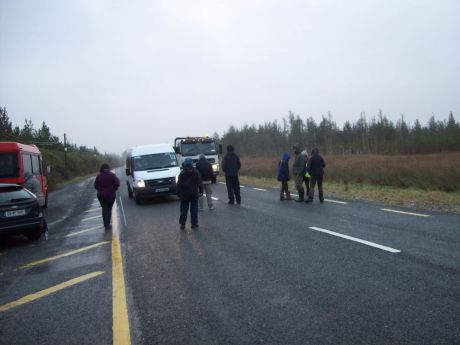 Shell truck & IRMS van blocked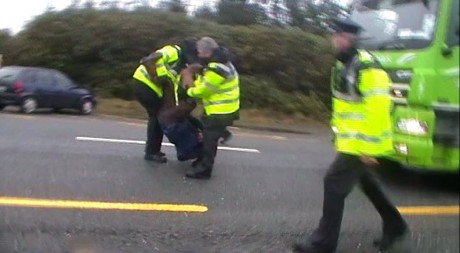 Garda violence and recklessness still on view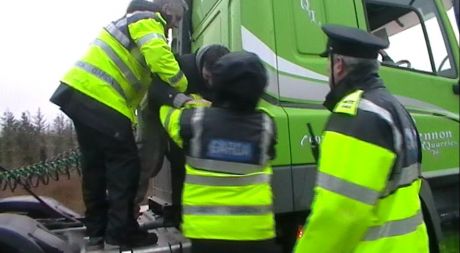 Pulling one protestor down from a truck