Tahrir > Spain > Wall Street > Dame Street > Galway... Occupy Eyre Square

galway | anti-capitalism | news report

Saturday October 22, 2011 10:24

by #OccupyGalway
#OccupyEyreSquare: Public Awareness Day, today 1pm

Come along to hear some key speakers on issues relating to the economic MESS we are all facing! This will be a day of solidarity with Occupy protests taking place in over 1600 cities worldwide. Come and show your support and have YOUR voice heard. Live music, refreshments and fun to be had as well!

Occupy Galway is part of the international movement against austerity measures imposed on ordinary people around the world. We are all part of the 99% who, so far, have been subject to economic inequality and social injustice from the 1% who control the world's resources. We, the 99% demand:

1 - The removal of the IMF and ECB from all Irish financial affairs;
2 - That the national debt imposed on Irish people from the bank bailouts be lifted;
3 - The return of Irish resources (gas, oil, forestry) to the people of Ireland;
4 - Real particpatory democracy.

THIS IS NOT A RECESSION, IT'S A ROBBERY!!!

See you there!
#OccupyGalway - Call out for HELP:

If there's ANYONE around Galway city today that is able to bring tarp, a gazebo, sandbags, sleeping bags etc. please do so. They are needed urgently to battle the torrential conditions.

At the moment we need a metal barrel, a generator, an internet usb, a large canvas (for a roof), gaffa tape and hot food is always appreciated!

PLEASE HELP US!

- Occupy Eyre Square: Public Awareness Day
http://www.facebook.com/event.php?eid=262900923747922
Saturday 22 October · 13:00 - 16:00 (today)


**** Earlier reports and links, photos, vids etc *****
***** Movement spreads to Galway's Eyre Square (
Irish Times - Monday, October 17, 2011)
http://www.irishtimes.com/newspaper/ireland/2011/1017/1....html

The group has no hierarchical structure, has set up a Facebook page and Twitter account – with the social media links attracting a very mixed, and sometimes critical, reaction.
"In general, the reaction of passers-by has been great, and we only wish the people talking on Facebook would come down and join us," chef Gillen Hardesty from Renmore and Sean Maguire, from the Galway-Mayo border, said.
"People have offered us food, we've been offered the use of toilets, the gardaí kept the drinkers away last night, and the public have been very positive," they said.
"There is a huge anger and frustration out there and people don't know what to do because they feel that the International Monetary Fund, rather than the government, is running the country," they said.
***** International 'occupy' protest movement spreads to Galway (Connaught Sentinel -
October 18, 2011)
http://www.galwaynews.ie/22157-international-%E2%80%98o...alway
The latest group to join in the international protest which began on Wall Street in the heart of America's financial district battled gale-force winds and torrential rain in flimsy tents on Eyre Square since they set up camp on Saturday.
At one stage at the height of the 60km-per-hour winds it looked like the protest would be called off after the main shelter – a gazebo – was blown down on Monday morning.
The group retired for what was labelled an urgent meeting in Richardson's pub but at the time of going to press the group, which is living in about six tents, continued to tweet and post messages on Facebook...
'OccupyGalway' joined similar protests in 1,500 cities whose aim is to express "a growing sense of frustration with social inequality and corporate greed". They also want the International Monetary Fund (IMF) to pull out of Ireland...
***** With no agenda or demands, the protesters may be on a winner (
Irish Times -
Saturday, October 22, 2011
)
www.irishtimes.com/newspaper/weekend/2011/1022/1224306276512.html
Instead of pretending to be a policy think tank, the Occupy movement is transparently a campaign of civil disobedience, and it has had immediate success. It has already altered the parameters of the debate, with talk of balanced budgets and deficit reduction – pernicious euphemisms for small government – rapidly being supplanted by talk of inequality. And by reframing the debate the Occupy movement has already perceptibly shifted the ground on which next year's US presidential election will be run, forcing Democrats to the left. It has achieved all this in a month.
Ultimately, issuing demands is another way of saying you can be bought off. But you can't buy a fairer society, you can't buy a more equitable distribution of wealth and you can't buy governance free from corporate corruption.
For those goals to be achieved, every actor in a society has to consistently work at them – it's a process, not a transaction.
Perhaps the Occupy protests' main achievement, then, won't be any piece of legislation or banking reform but the legitimisation of protest itself. If they succeed in that, maybe 10 years on Dame Street won't sound so absurd after all.
**** ELSEWHERE*****
#OccupyGalway might be all toasty and warm with their fancy-pants gazebo
http://www.boomingback.org/2011/10/join-us-on-saturday-....html
From #OccupyDameStreet to #OccupyGalway (Earlier post on imc-ie)
http://www.indymedia.ie/article/100658&comment_limit=0&...84922
The American Revolution is underway, #occupywallstreet takes it to the belly of the beast
http://www.indymedia.ie/article/100645
#OccupyDameStreet March + Billy Bragg secret solidarity gig
http://www.indymedia.ie/article/100761
Occupied by the Arts - Galwayman Vincent Wood
http://vincentjwood.blogspot.com/2011/10/occupied-by-ar....html
http://www.facebook.com/GalwayAdvertiser/posts/10150361...36941
**** photos*****
#OccupyGalway
http://www.facebook.com/pages/Occupy-Galway-OccupyGalwa...hotos
Irish Independent:
http://photos.independent.ie/gallery/Occupy_Protests_Wo...AQa5d


#OccupyGalway: Tent city grows in Eyre Square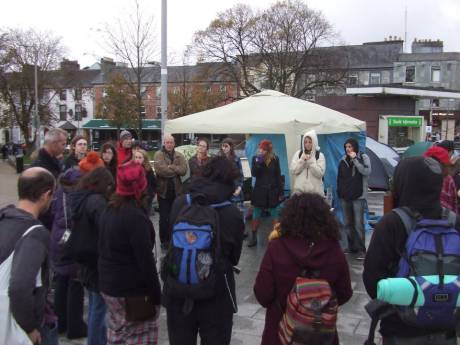 #OccupyGalway: This is what democracy looks like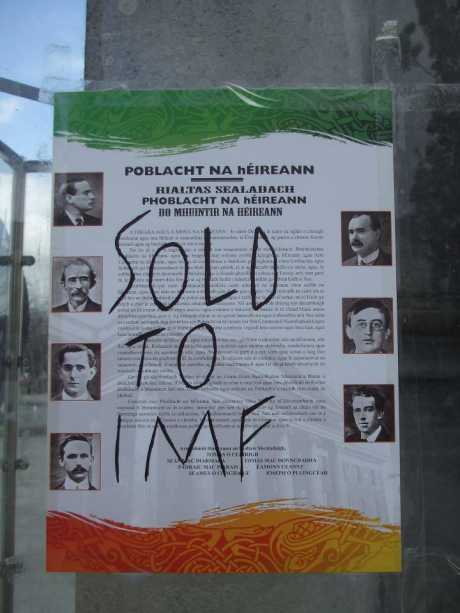 #OccupyGalway: Is it for this that the sons of Roisín died???